A Wooden chair is an essential item that is almost indispensable in every family from past to present. Today, the number of wooden tables and chairs processed by traditional methods is not much, instead, they are advanced, faster and more sophisticated technology. Manufacturing process is also one of the important factors. How to achieve production efficiency? Keeping up with market demand, standardizing product processes and demanding product quality is the main focus. That is also the basis for furniture companies to catch up with products and output requirements. Therefore, finding a production solution that works for me.
Quoc Duy suggests to you the solution of producing wooden chairs with the most optimal Semac machine line, gained experience through the projects that we have implemented. The seat parts include the rear legs, the front legs, the seat frame, the seat plate and the seat back … And we complete the following 5 stages: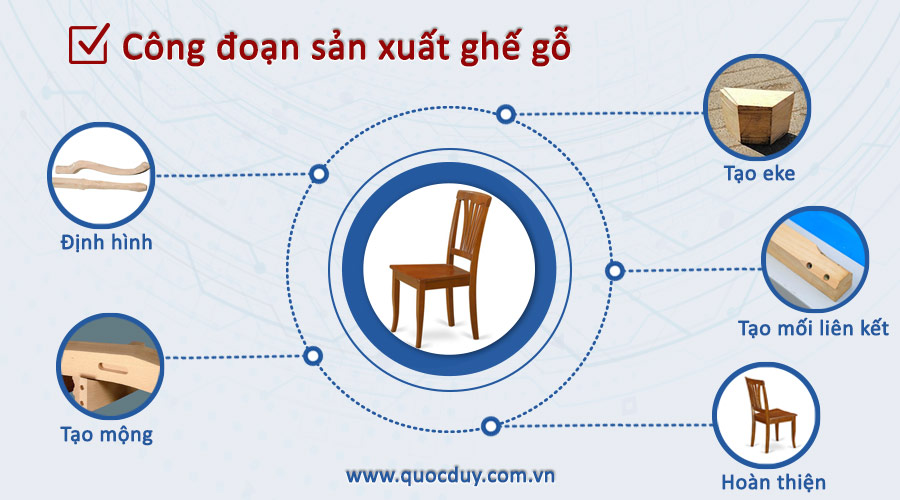 Semac's chair making line includes machines from shaping the product to the tening mill to link the planting of the finishing screws..
1 . Shape stage :
The first is to shape the product from the preliminary workpiece. This stage processes the rear seat legs, spokes and seat restraints. This stage is quite important, helping the product in the finishing stage to be firm, cracked, warped, …
Cnc jigsaw machine is used to process wood details from large wood panels: machining details such as chair legs, spokes, chairs …
The machine works based on autocad application. The machine is designed with outstanding processing power, can process 3000 chair legs / day.
Or products that require more curved and complicated details should use the cnc router band saw machine SM-DR1
Using a separate feed system, cutting wood is stable

High safety. No close contact with knives to ensure production safety and reduce industrial and commercial risks.

High automation CNC. Specialized for cutting and bending wood, replacing traditional saw blades. Support for DXF or XML files. Create a one-click machining program, eliminating the process of notes.
For a more finished product, remove the rough parts of the wood surface after pilling. Forming process with the copier to cut and the cutting parts have a circular movement around the center, to mill the surface straight or evenly curled, after the product through the copy milling machine will help the surface have a ripple waves, or sickle-shaped embryos …
Drawings are directly accessible, saving more than one hour of machine tuning time.

Saving manpower by more than one person acting as qualified mold worker.

Computerized precision machining, no mold marks, so sanding is easier.

Machining speed is more than double faster than similar machine.
SDX-SX4-2400 
 Drawings are directly accessible, saving more than one hour of machine tuning time.

Saving manpower by more than one person acting as qualified mold worker.

Machining speed is more than double faster than similar machine.
Rugged machine structure, the ability to copy products up to 2400mm long. It can process wooden furniture products such as table legs, chair legs, beds, shelves, …
2 . Tenoner stage:
Create a tenon and mortise to connect the details of the chair leg. The tenon joints always require absolute precision – the higher the precision, the stronger the bond.
How to create a tenon:
Supper fast cnc tenon machine and high precision.

The screw rod is made with high accuracy to improved the life of the machine.

Input of machining parameters is just like filling in the table, it is convenient and swift.

The  number of products input into the memory is larger and extendable.
High efficiency : It adopts structures of stock bin type with continuous automatic feeding and automatic blanking to reduce feeding time of manual operation.

It also uses the servo system with high responsiveness, higher accuracy and faster speed, which can produce 500-800 products hour.

Convenient : It uses the touch screen operation with simple and clear interface and digital input of fill – to – empty mode. 
How to create a mortise:
Oscillation mortiser rectangular tenoner CNC SDC 1200 4 4 can do many different types of tenon.

 Unlimited tenon dimension.

Support CAD files to import graphics.

Fast machining speed and save labor cost.

 Perfect design at the very low price.

The machine has multiple lines from 2 heads – 4 heads and a working table up to 2400 mm.
Processing products with a maximum length of 1800mm, processing on both ends.

High speed precision machining, suitable for mass production to ensure uniform size products.

In addition to processing fine art wooden products, the machine is also extremely ideal for processing arc shape profiles such as table legs, chair legs,…

Outstanding machining speed, 10 times more power than manual maching or basic dream milling drill lines.
3 . The process of creating triangular angle: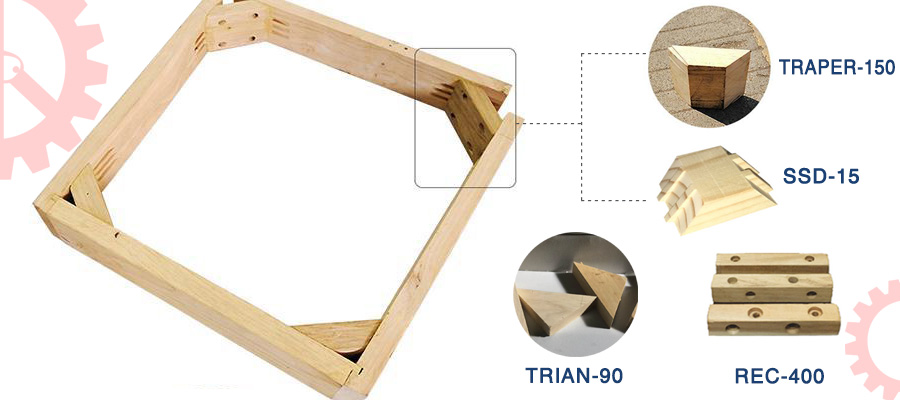 Automatic corner chair cutting machine TRAPER-150 a line of cutters for slanted bugs, seat bugs, tables in furniture production …
Automatic cutting and reversing machine. Continuous processing capability helps to increase outstanding productivity.
In addition, the machine has an automatic embryo delivery system that reduces time on the workpiece and saves labor costs.
Automatic corner angle cutting machine TRIAN-90 is used to cut wood pieces as bugs fixed the angle of tables and chairs, wooden cabinets, can cut straight 90 degrees and 45 degrees tilt.

The continuous automatic loader system saves a lot of time and labor

High efficiency and most accurate.
Automatic drilling and cutting machine performs 2 functions at the same time: Cutting and drilling to make the chair legs.

There is a continuous automatic feeding mode to save labor costs and maximize production.

Simple and user friendly controls
Automatic triangular wood tenon machine automatically provides continuous workpieces to double the productivity.

Control panel display is simple, easy to operate and operate the machine.
Specialized groove eke chair grooves help link the corner firmer.
3 . Connection stage: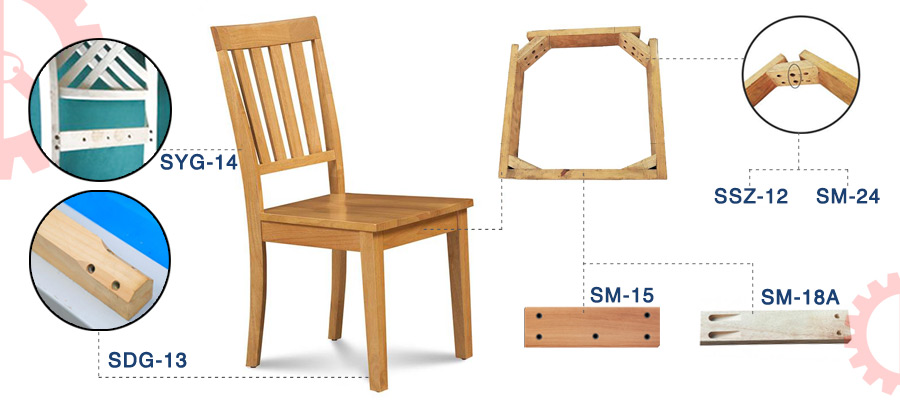 SDG-13 combined 3 functions : Milling, drilling and tapping.
There are 2 lines of machine: the type used for cochlear implantation and the one used for cochlear implantation for customers to easily choose.
Combined 2 functions: Drilling and tapping.

Ability to work continuously, high efficiency.

Manufacturing 100 products / hour
 SMGS 15 is convenient when adjusting, high precise when drilling.

The best choice for saving the labor cost.
Multi function : cutting, slot milling, drilling.
Automatic feeding and high precision.
Performance: nearly 2,000 workpieces/8 hours
 Compact structure and simple operation with high precision and smooth operation.

Working efficiency: 2000/8hours.

Can drill 4 directions, equipped with four drilling motors, drilling four directions at the same time.

Apply to drilling seat frame, frame side for chair wood,…
The machine is specially designed to drill seat legs, trapezoidal surfaces, and inclined surfaces.
Drilling machine makes chair beetles, connecting the triangular frame of the chair firmly. Including 3 triangular drilling clusters.
5 . Product finishing stage: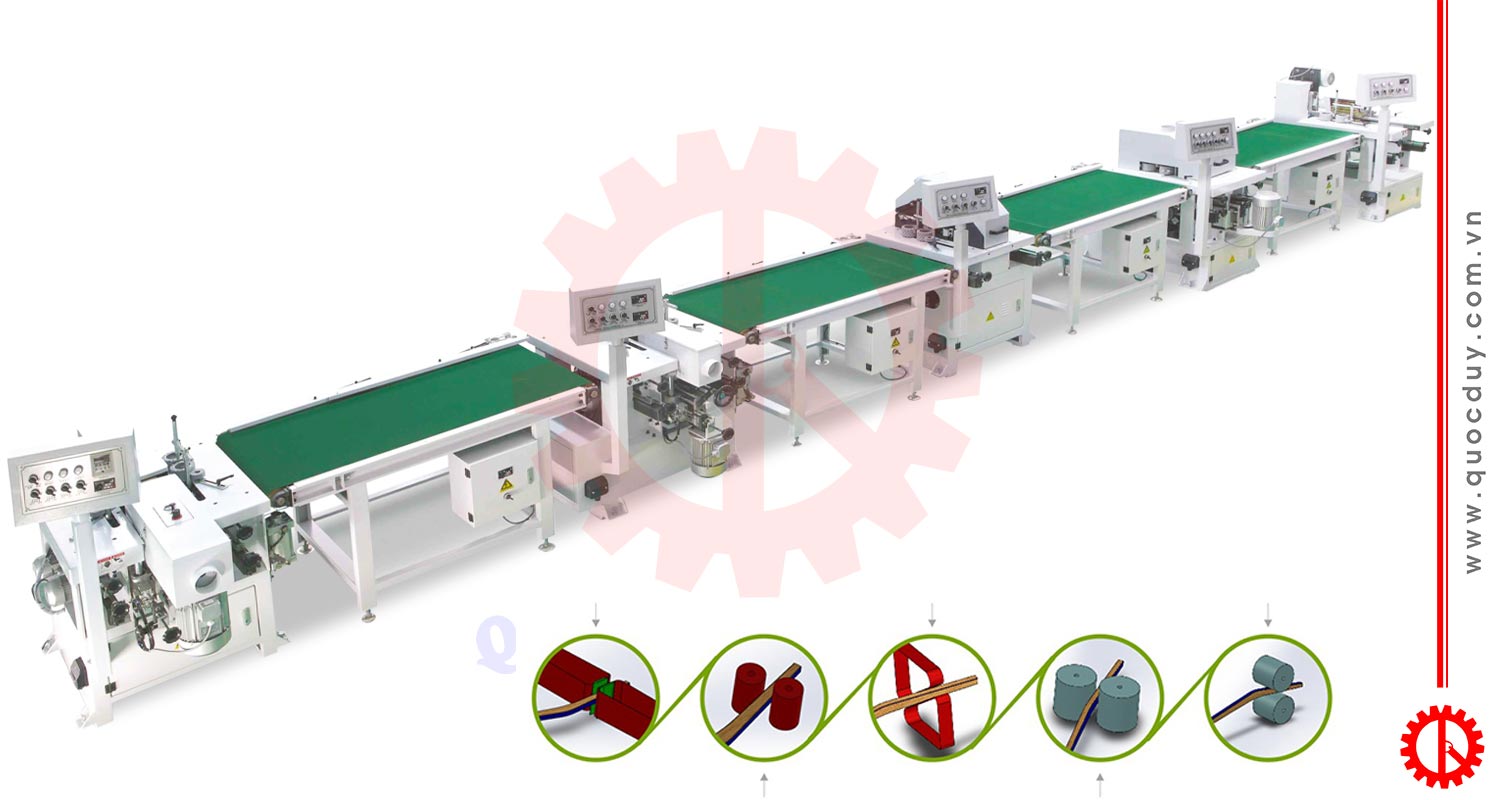 Fully automatic chair legs sanding system SM 290 is a combination of 5 models and the conveyor transfer system.

Sanding stage to complete the seat legs (including front and rear seat legs).

The automatic chair foot sanding line replaces many sanding steps in the production of wooden chairs, helping optimize production, minimize workers and create homogeneity for the product.

With a combination of 5 lines and the automatic chair foot rubbing conveyor system replaces many sanding stages in chair production to optimize production, reduce labor and create homogeneity for the product.

Workers need an automatic chair foot sanding line: 2 workers, 1 person loaded the embryo and 1 person picked the finished sanding embryo.

Save time on embryos, embryos, with sanding lines also create homogeneity of the product.

Suitable for mass production, allowing flexible machining with different types of workpieces.

With a combination of 5 separate models, it is convenient to clean the machine, change the sander or sandpaper..
–  For a more complete product, improve the quality of the connection between chair parts. We will use the following line of chair presses to make the product sturdy and durable over time of use:
For more information, please contact Quoc Duy at hotline (+84) 0903 600 113 or (+84-28) 7309 5276 for the best support.