Double blade sliding table saw 3200mm is a popular choice due to its affordability and versatility. Its operation is straightforward and doesn't demand extensive expertise, making it an excellent option for producing industrial wood furniture.
INTRODUCING THE 3200MM DOUBLE-BLADE SLIDING TABLE SAW
Features of the sliding table saw
This machine is specifically designed to cut industrial wood boards with precision at a straight or inclined angle of 45 degrees.
It can cut materials such as MDF, OKAL, MFC, and laminate.
The components used in the machine are high-quality and imported for durability and stability.
The slide rail is designed in a cylindrical shape to ensure a smooth and stable sliding process.
Additionally, the sliding table surface is made of aluminum alloy and the machine frame is constructed from high-grade steel.
Technical specifications of 3200mm two-blade sliding table saw
| | |
| --- | --- |
| Sliding table dimension | : 400 x 3200 mm |
| Scoring saw blade | : Ø 120 mm |
| Blade tilting adjustment | : 0 – 45 |
|  Max cutting height with blade at 900 | : 120 mm |
|  Max cutting height with blade at 450 | : 75 mm |
|  Cutting width | : 1250 mm |
|  Dust collection system | : Ø 100 mm |
|  Scoring motor power | : 0.75 KW |
|  Main motor power | : 5 KW |
|  Net weight | : 800 kg |
|  Machine size | : 3200 × 1250 x 1100 mm |
STRUCTURE OF A 2-BLADE SLIDING TABLE SAW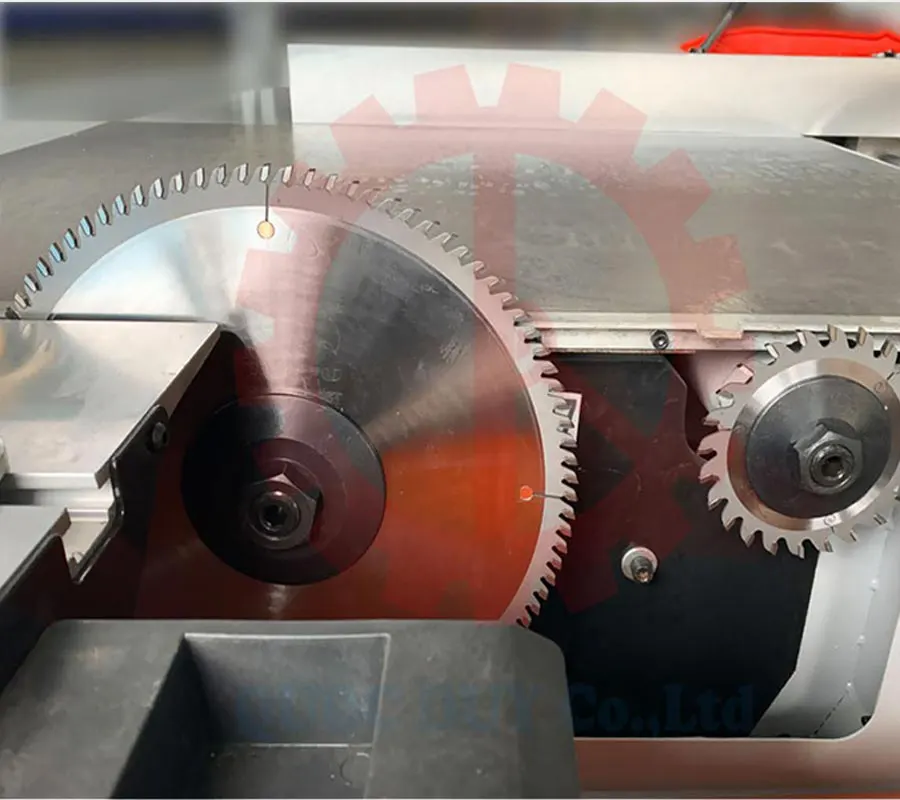 Set blades
The saw includes two blades: a main blade and a primer blade, each powered by a separate engine. It has the ability to cut straight or tilt the blade up to 45 degrees.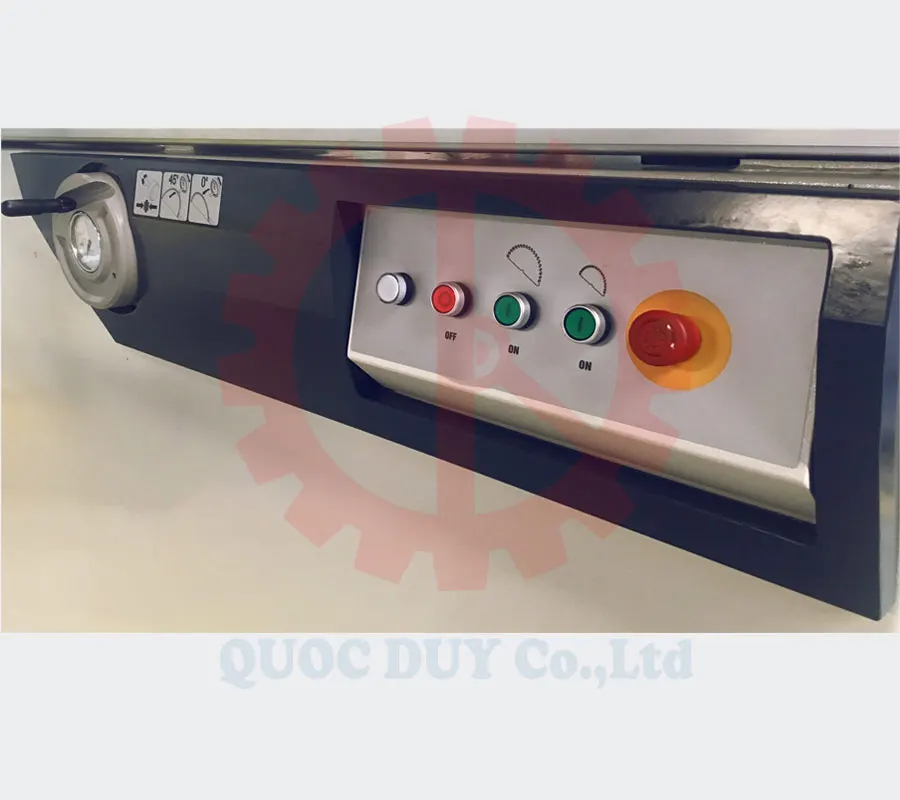 Control push button
Control the saw blade tilt easily with mechanical buttons and a digital screen.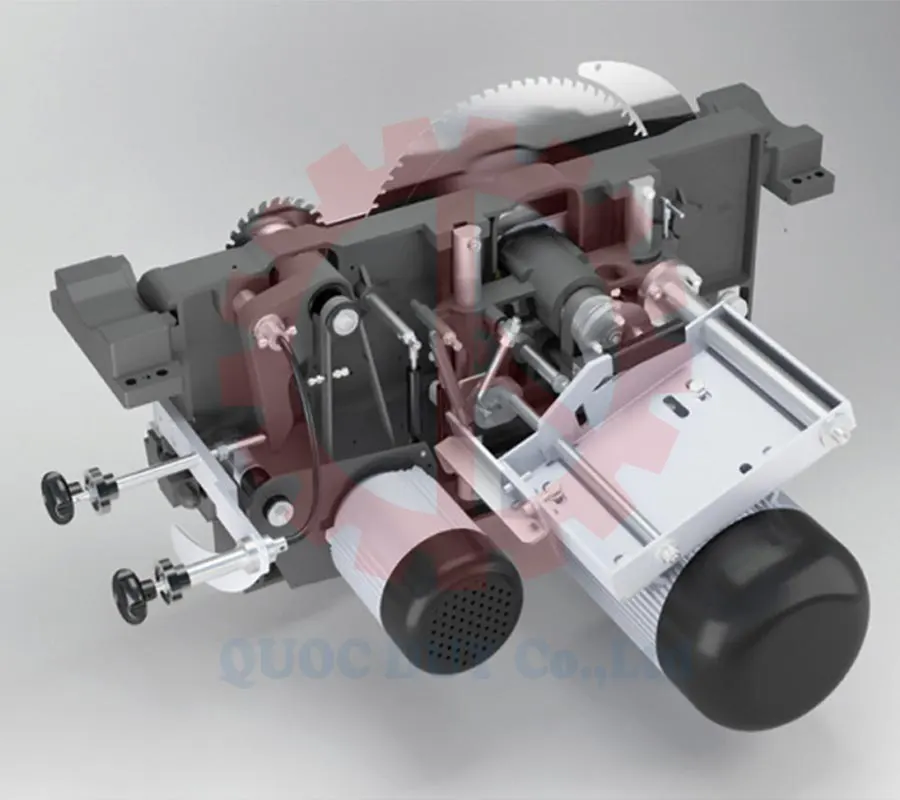 Cutting motor
The main blade motor has a capacity of 5.5kw, while the primer blade operates at 0.75kw with strength.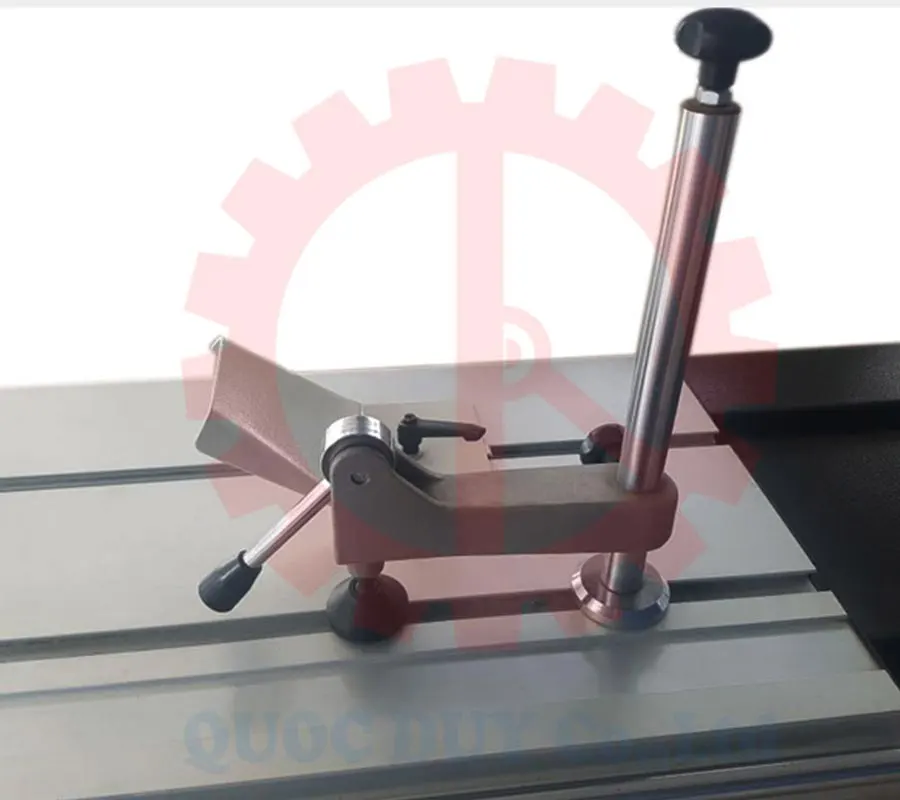 Fix the cutting workpiece
The clamp securely holds the workpiece during cutting, ensuring precise and straight cuts with ease.The clamp securely holds the workpiece during cutting, ensuring precise and straight cuts with ease.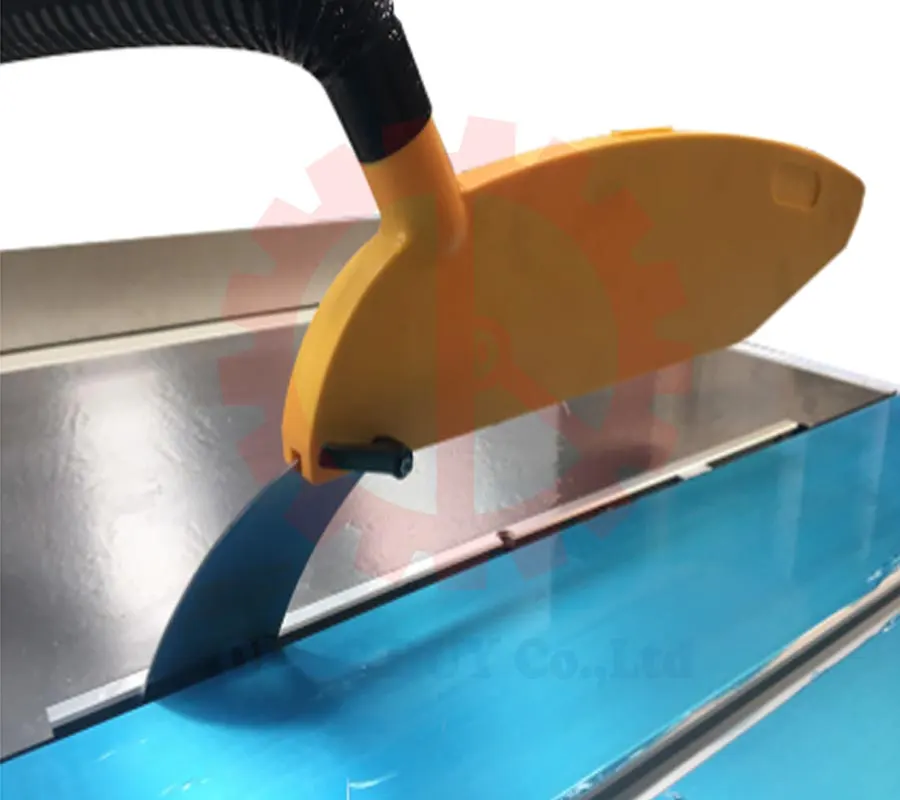 Part of dust cover
This helps ensure safety while cutting and shooting, and minimizes dust in the production space by absorbing sawdust.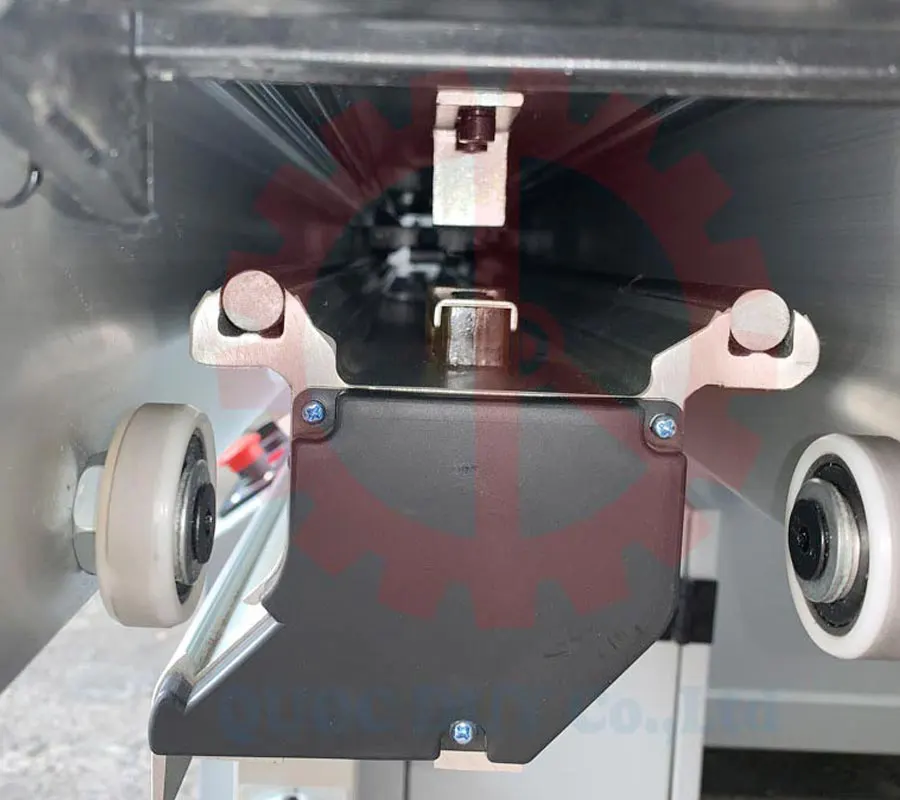 Sliding rails
Circular sliding rails make cutting boards and moving the table easier by reducing friction.
VIDEO OF OPERATION OF Sliding TABLE SAW
Saw blades for sliding table wood saws
These PCD sliding table saw blades are crafted from a diamond alloy and are specifically designed for cutting industrial boards like MDF, MFC, natural wood, and Okal boards. They offer superior productivity compared to conventional saw blades. Here are the key benefits of using PCD saw blades:
Saw blade specifications can be customized to meet customer needs.
The saw blade alloy boasts slow wear, resulting in beautiful and smooth cuts.
These blades offer exceptional cutting speed and sharpness, which reduces sawdust production during processing.
The saw blade can be sharpened 8-10 times and within 30 days.
Quoc Duy, a leading woodworking machine manufacturer, offers the first alloy saw blade sharpening service in the Vietnamese market. They also provide many other facilities to help optimize the machine's cutting ability.
Combining the 3200m double-blade sliding table saw with PCD saw blades results in high productivity in your workshop. It enables fast processing, beautiful finished products, and consistent quality.
Consulting information and price quote for 3200mm double-blade sliding table saw
For carpentry businesses, industrial board saws are the top choice. Our company offers a range of sawing systems at affordable investment costs.
If you have any inquiries about our 3200mm double-blade
sliding table saw
, don't hesitate to reach out to us through the contact information below. Our team at Quoc Duy is committed to providing prompt and accurate consulting support.
You can contact us via email at info@quocduy.com.vn, or call our hotline at 0903 600 113.
You can also visit our website at www.quocduy.com.vn  –   www.semac.com.vn for more information.
If you'd like to see our modern machines in action, feel free to visit our factory located at 401 To Ngoc Van, Thanh Xuan Ward, District 12, Ho Chi Minh City.