Good cheap sliding table saw from the brand SEMAC – Quoc Duy with a powerful engine, durable construction, and an accurate aluminum alloy sliding table at an affordable price.
INTRODUCING CHEAP SLIDING TABLE SAWS
Features of SEMAC good cheap sliding table saw
The table top is constructed with sturdy and stable aluminum alloy.
It is capable of cutting a variety of industrial boards, including MFC, MDF, HDF, okal board, and laminate, both straight and slanted.
This affordable sliding table wood saw can cut quickly and accurately, producing smooth cuts.
Its high-quality machine components ensure durability and longevity.
The control panel is simple and easy to operate, with options for adjusting both straight and inclined cutting.
Application of sliding table saw in production
Sliding table saws with a compact design and the capability to cut different sizes are the preferred choice for panel manufacturers due to their reasonable price.
These machines have a modern design that makes board cutting simple and quick. Additionally, they help optimize cutting lines, minimizing any significant board loss.
Specifications of good cheap sliding table saw
| | |
| --- | --- |
| Sliding table dimension | : 375 x 3000 mm |
| Scoring saw blade | : Ø 120 x Ø 20 mm |
| Scoring blade speed | : 9000 rpm |
| Main saw blade | : Ø 305 x Ø 30 mm |
| Main blade speed | : 2900 rpm |
| Blade tilting adjustment | : 0 – 450 |
| Max cutting height with blade at 900 | : 120 mm |
| Max cutting height with blade at 450 | : 75 mm |
| Cutting width | : 1250 mm |
| Dust collection system | : Ø 100 mm |
| Scoring motor power | : 1.1 Kw |
| Main motor power | : 5.5 Kw |
| Total power | : 6.6 Kw |
| Net weight | : 800 kgs |
| Machine size | : 3100 x 3150 |
DETAILS OF CHEAP SLIDING TABLE SAW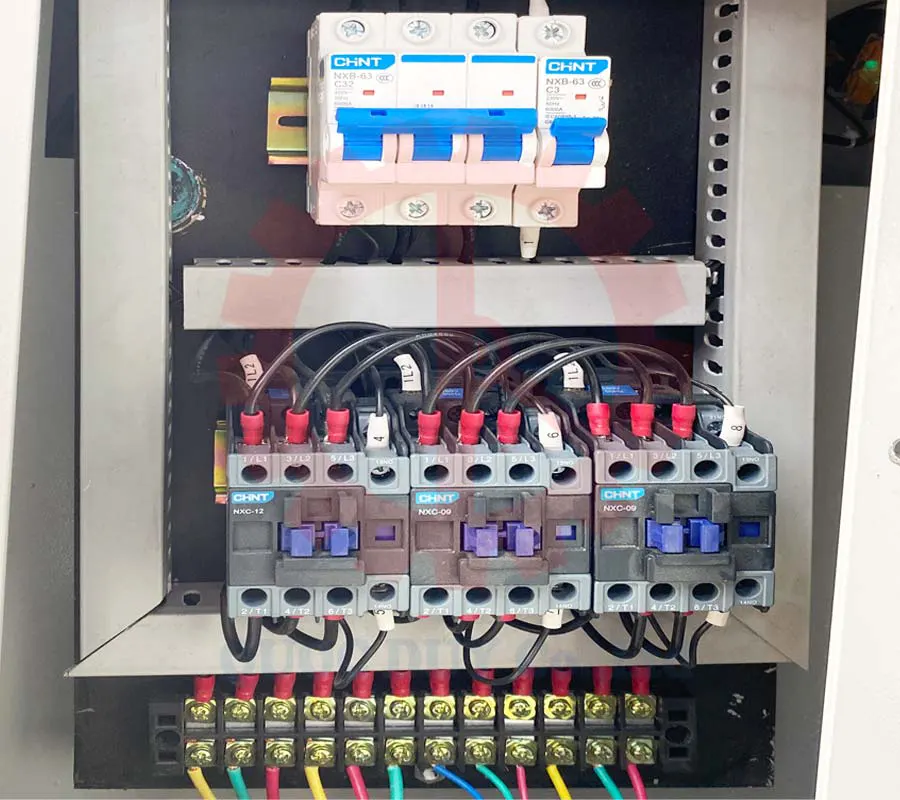 Control cabinet
The machine operates stably and is easy to control thanks to its high-quality electrical system.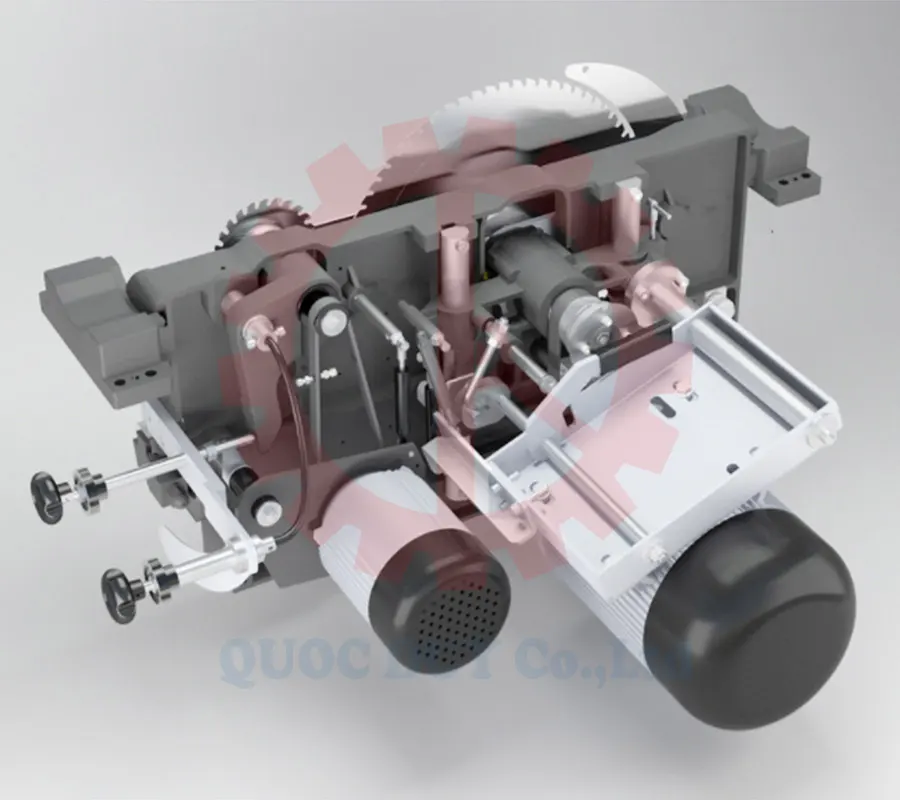 Cutting motor
This tool operates with a high capacity and stable processing, ensuring accurate cuts.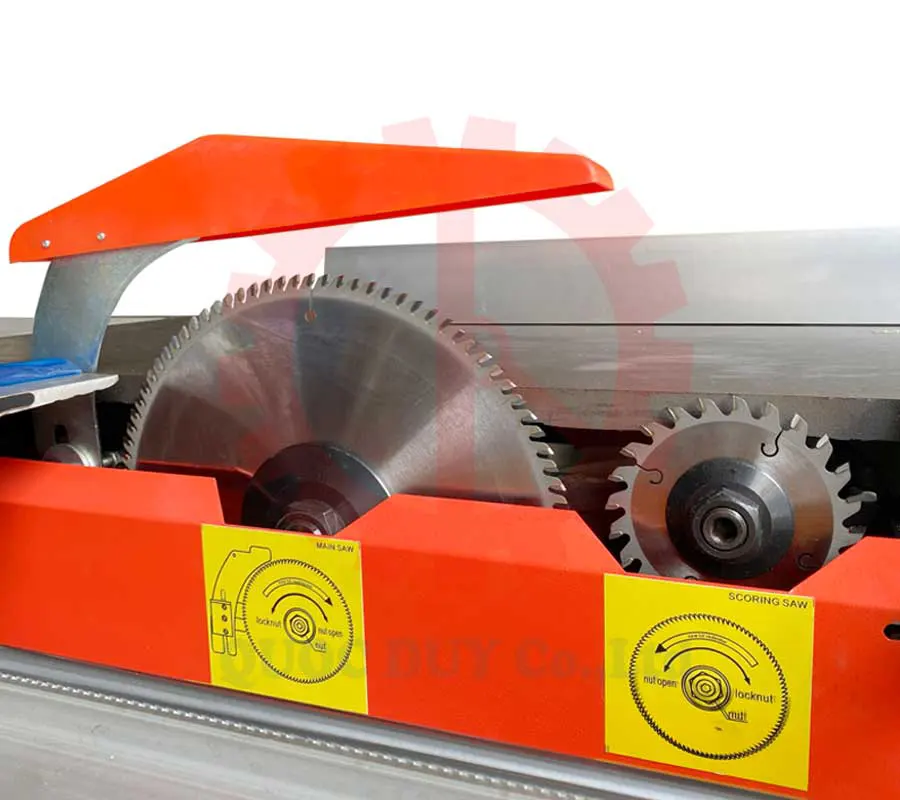 Set blades
Includes 1 main saw blade and 1 primer blade with 2 separate mechanical blades for powerful cutting.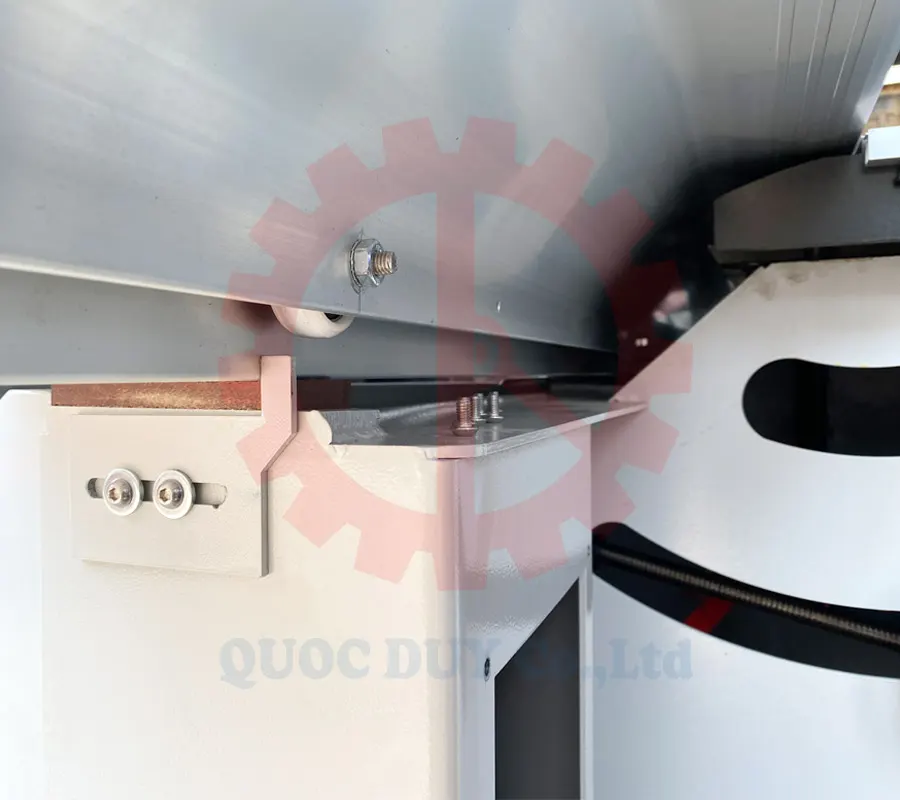 Sliding rails
This tool boasts modern design and smooth sliding capabilities, making it easier to cut boards quickly while minimizing friction.
OPERATION OF A CHEAP SLIDING TABLE SAW
More modern 2-blade sliding table saws
At Quoc Duy, we aim to provide our customers with a wide range of choices when it comes to sliding table saws. Our selection includes various models at different price points.
To view more of our latest products, please visit our Sliding Table Saw System.
>>> See more: Sliding table saw for wood
Latest sliding table saw price
If you're in need of
woodworking machines
, Quoc Duy is a reliable source with years of experience in the industry. One of our popular product lines is the
sliding table saw
, which is essential for furniture production using industrial boards. Many domestic customers trust Quoc Duy for our quality products and reasonable prices.
To receive a quote and quick advice on automatic sawing machines, contact Quoc Duy directly through the following information:
Sawing machine
system
If you prefer to see the machines in action, you can visit Quoc Duy's factory located at 401 To Ngoc Van, Thanh Xuan Ward, District 12, Ho Chi Minh City. We have the most modern machines currently available.