Automatic straight line rip saw machine – Many businesses invest in this product for its heavy load capacity and fast cutting speed, allowing for quick production.
DETAILS OF AUTOMATIC RIP SAW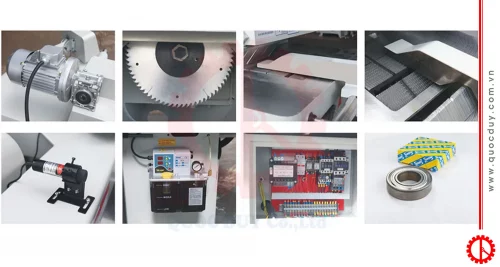 Features of top spindle straight line rip saw
Single rip saw (up saw) has expertise in utilizing straight edges and standard-sized planks for joinery production, both for interior and exterior use.
The frame of the machine is constructed to be very sturdy, which prevents the motors from shaking and interfering with the wood cleaning process.
The production process is also expedited with the automatic billet rolling conveyor.
The cutting motor of the wood saw is powerful and stable.
Additionally, there is an automatic lubricating oil supply system in place to ensure that the upper blade saw operates smoothly.
Specifications of automatic rip saw
| | |
| --- | --- |
| Sawing thickness | :  5-85mm |
| Max. Sawing width | : 360 mm |
| Min. Sawing length | : 300 mm |
| Max saw blade diameter | : Ø 305 mm |
| Saw shaft speed | : Ø 25.4 mm |
| Main motor power | : 7.5 kw |
| Feed motor power | : 0.75 kw |
| Total power | : 8.25 kw |
| Net weight | : 900 kg |
| Machine size | : 1550 x 950 x 1420 mm |
Product of automatic straight line rip saw machine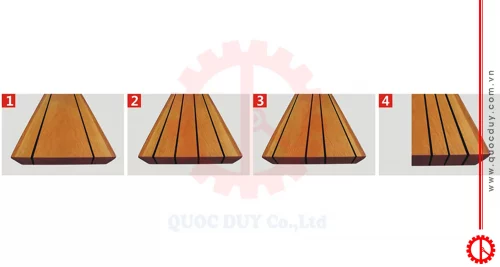 Classify the latest ripsaw saws
When it comes to ripsaw saws, there are currently three types available: upper blade saws, lower blade saws, and multi-blade saws.
Each type is suited to specific types of processed products, so it's important to reach out to a woodworking machine supplier for advice on which is right for your business.
Quoc Duy, with over 20 years of experience, is dedicated to providing enthusiastic consulting support to help you find the perfect solution.
How much is automatic straight line rip saw machine?
If you're looking for pricing information on the
sawing machine
mentioned above, we recommend reaching out to
Quoc Duy
for further support. You can contact us via: