4 side planer and moulder – GS 423 designed with 4 planing rollers to help smooth the product surface at high speed. In case the product exceeds the allowable limit, it will be limited by an over-height protection device located at the end of the workpiece feeding unit.
Introduction of 4 side planer and moulder
Features of 4 side planer and moulder
– Convenient infeed adjustment : The infeed table and fence are conveniently adjusted by the separate control levers
– Over height protection : In case workpiece exceeds the rated maximum height, it will be restricted by the over height protection device provided at the workpiece infeed end
– Front and rear pressure plate : The front pressure plate features "draw-back" performance, which fully avoid damage on cutters caused by an over-height workpiece. The rear pressure plate provides extremely uniform holding pressure for outstanding parallelism accuracy of machining
– Side front pressure plate on left vertical spindle: It fully eliminates unsmooth problem when feeding short or narrow stock. The pressure plate is easy to adjust
– Convenient spindle adjustment : All control levers for the spindles are located at the front of the machine for convenient adjustment. Each spindle is provided with a mechanical digital readout, giving accurate adjustment.
Specifications of 4 side planer and moulder
| | |
| --- | --- |
|  Planing width | 10 – 230 mm |
|  Planing thickness | 7 – 125 mm |
|  Min working length | 230 mm |
|  Feed speed | 6 – 25 m/min |
|  Spindle speed | 6000 rpm |
|  Spindle diameter | Φ 40 |
|  Adjustment of vertical spindle | 30 mm |
|  Adjustment of horizontal spindle | 20 mm |
|  First bottom horizontal spindle | Φ 100 – 150 mm |
|  Right/left vertical spindle | Φ 100 – 180 mm |
|  Top horizontal spindle | Φ 100 – 180 mm |
|  Bottom horizontal spindle | 7.5 HP |
|  Right/left vertical spindle | 10 HP |
|  Top horizontal spindle | 7.5 HP |
|  Feed Motor | 3 HP |
| Elevate Motor | 1/3 HP |
|  Table adjustment | 12 |
|  Infeed table length | 2000 mm |
| Machine size | 3230 x 1280 x 1720 mm |
|  Net weight | 2800 kg |
Structure of 4 side planer and moulder
The planer machine's frame is precision mechanically machined, and the important parts of the machine are machined from cast iron, ensuring the highest quality.
The machine's planing knife shafts are designed with large diameters, helping to process 4-sided smooth planing effectively and at high speed.
The control panel is designed as a button, making it easy to turn on and off axis functions, making it easy for the operator to operate.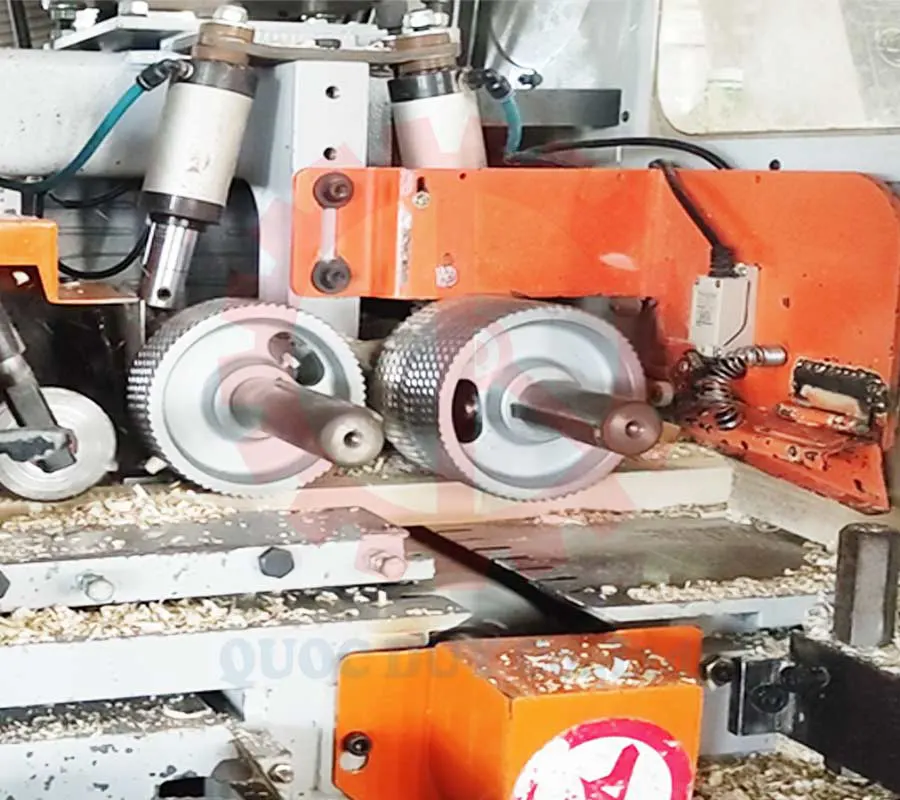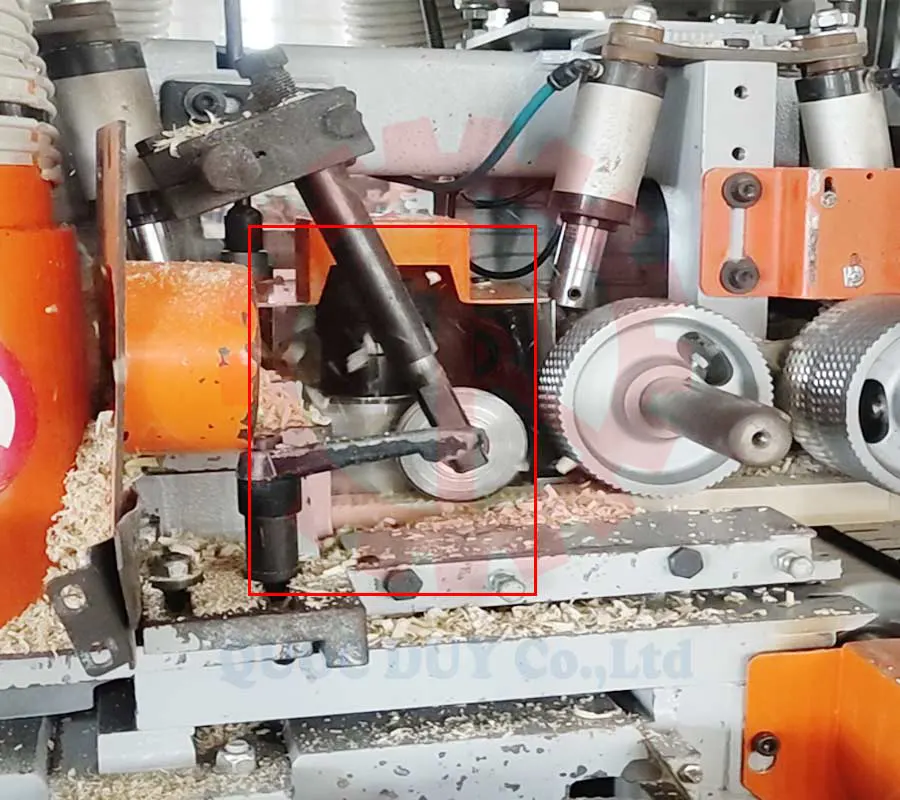 PLANING SHAFT ON THE RIGHT SIDE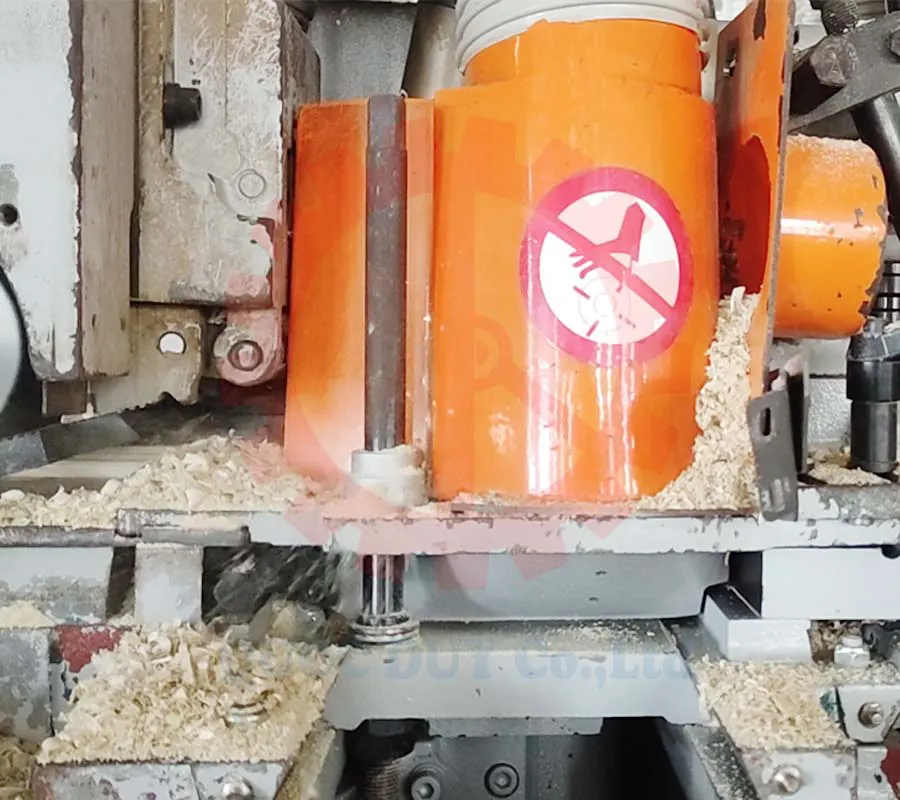 PLANING SHAFT ON THE LEFT SIDE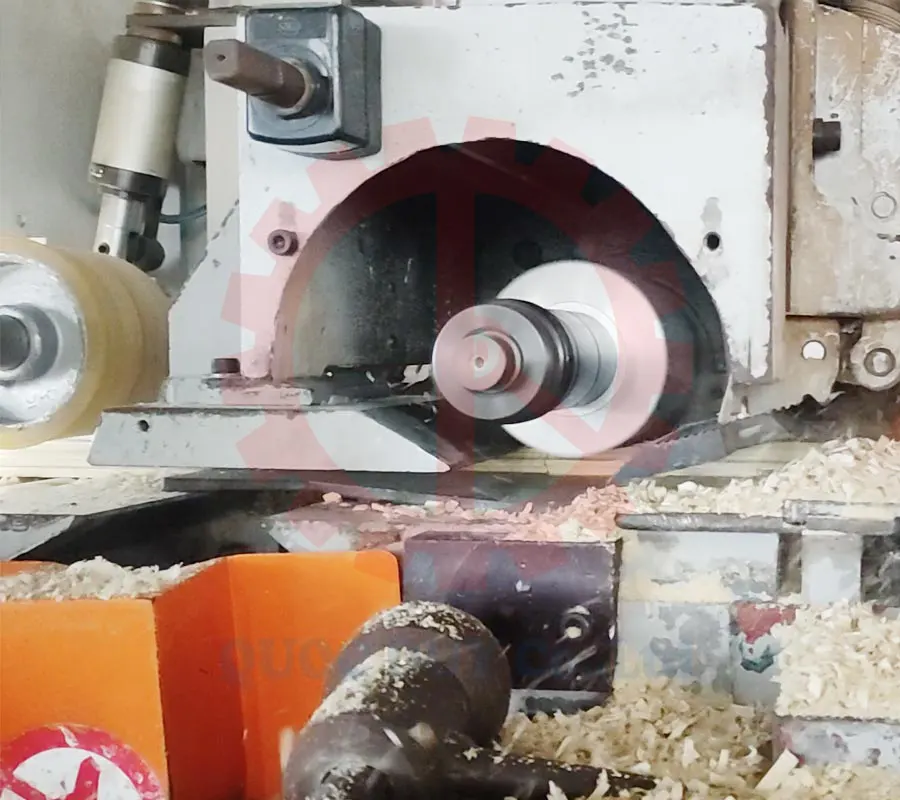 The latest lines of 4-sided 4-axis planing machines
At Quoc Duy woodworking machine system – we provide a variety of products including 2-sided wood planers, 1-sided wood planers, and 4-sided wood planers combined with automatic bar feeding system. dynamic.
Continuously improving product quality, each line of heavy-duty 4-sided 4-axis planing machines supplied on the market is tested for quality and stable operation before arriving at the customer's factory.
Some lines of automatic 4 side planer machines are available at Quoc Duy woodworking machinery:
Quoc Duy instructions on how to use the automatic 4-sided wood planer safely and effectively.
In addition, at natural wood furniture production facilities, flooring production, slat wood production lines, and panel wood production lines, a 4-sided planer is always required.
Quotation for 4 side planer and moulder
Quoc Duy woodworking machines are reputable in quality, with the best price. We are always ready to serve you. To quickly receive consulting information about 4-sided planer 4 – contact Quoc Duy immediately via the following information:
You can also come directly to our factory at: 401 To Ngoc Van, Thanh Xuan Ward, District 12, Ho Chi Minh City to directly see the operating process of the most modern machines. Currently.
video of 4 side planer and moulder