Cnc router with boring unit SEMAC – Quoc Duy brand applies 4.0 technology, helping to automate production lines. Minimize labor costs, improve outstanding productivity. This is the perfect choice for industrial wood furniture manufacturers.
Introduce of cnc router with boring unit
1. Cnc router milling machine – SMYM 1325R1BD
Functions of cnc router with boring unit 
– Perform a variety of processing types such as: drilling longitudinal holes, milling grooves, cutting boards in straight or curved lines, touching surfaces …
– Can meet most of the processing needs of all interior products such as cabinets, shelves , tables, partitions, decorative walls, chairs…
Features
of cnc router with boring unit 
– Most electrical components and motors are carefully selected from famous brands to ensure high durability and stability.
– Equipped with automatic workpiece entry and exit system to improve productivity less dependent on labor
– The table top is divided into 6 zones high power vacuum suction 7.5 kw stabilizes the workpiece during the machining period.
– Automatic tool change mechanism, the circular tool tray can hold 12 tools, ensuring continuous machining, saving time in alignment compared to manual tool change.
– XY (Rack) Z (lead screw) drive system controlled by high-speed and precise servo motor
Specifications of
cnc router with boring unit 
| | |
| --- | --- |
| X-axis stroke | : 1300 mm |
| Y axis stroke | : 2800 mm |
| Z axis stroke | : 200 mm |
| Spindle capacity | : 9 kw |
| Motor drilling | : 1.7 kw |
| Number of tool trays | : 12 (Replacing knives and plates) |
| Spindle speed | : 1200 rpm |
| Dimensions of the desk | : 1220 x 2440 x 200 mm |
| Code | : G code |
| Accuracy | : ±0.05 mm |
| Vacuum motor | : 7.5 kw, 250 m3/h |
| Working voltage | : 380V, 50Hz |
2. Automatic principle learning system
A. Hydraulic looking table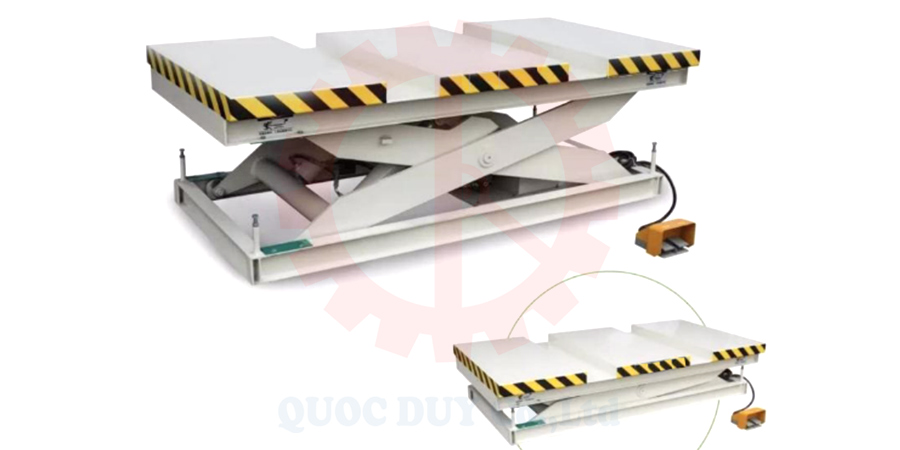 Specifications of hydraulic looking table
| | |
| --- | --- |
| Maximum load | : 2 tons |
| Maximum lifting height | : 1200mm |
| Hydraulic pump motor | : 2HP |
| Machine size | : 2200 × 1000 × 500 |
| Weight | : 800 kg |
B. Billet feeding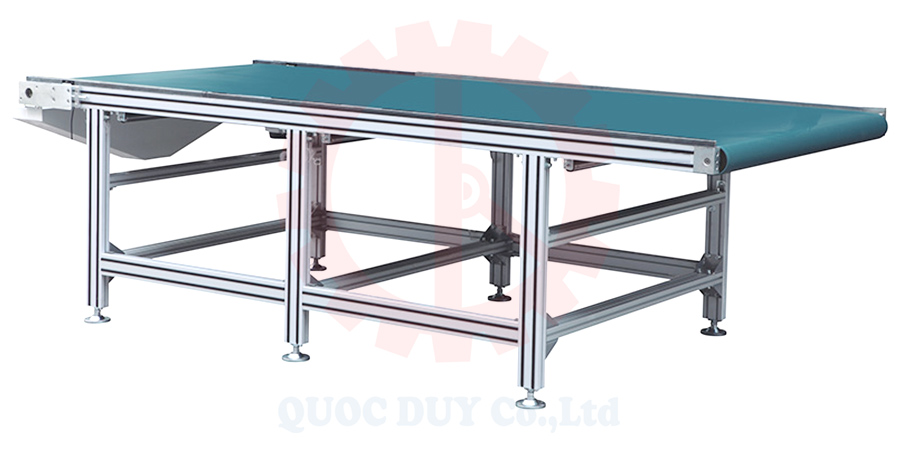 Specifications of billet feeding
Conveyor Conveyor body made of aluminum
Suitable for all types of straight workpieces
Adjustment of feed rate by inverter
Feeding width
: 1300mm
Feeding length
: 2500mm
Workpiece weight
: 50 Kg
See more: Cnc router nesting machine
Contact Infomation
– Email : info@quocduy.com.vn
– Hotline : 0903 600 113
– Website : www.quocduy.com  –   www.semac.com.vn
You can also come directly to our factory at:  401 To Ngoc Van, Thanh Xuan ward, District 12, Ho Chi Minh City to directly see the operation process of the series woodworking machines