Automatic Rounds Log Sawmill Production Line
Introduction of the log saw process
The log sawing process is modernly designed, including the lines of circular wood cutting machines, multi-blade sawing or box and board sawing, the location and order of the machine are carefully calculated by Quoc Duy to bring about production line.
Vietnam's wooden furniture market is very popular, but wood materials are rare, to have standard wooden slats for production, it takes many stages to complete.
Hopefully the following sharing of Quoc Duy will help you partly understand the process as well as notes when lumber.
Outline of the log cutting process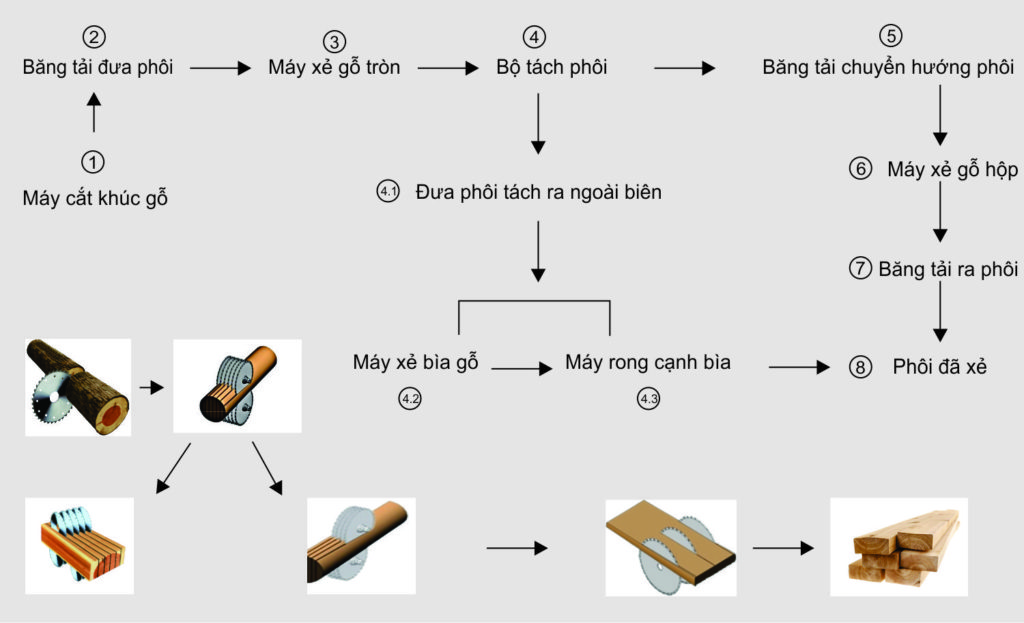 Machines in the log sawing process automatically:
After the billet is put into the sawn machine, the wood is cut into pieces and moved out by the conveyor, the automatic sawing process is completed.
Note when investing in Rounds Log Sawmill Production Line
Choosing the right machine depends on the size of the cutting product. So you need to define the machining size in advance to avoid choosing the machine to not meet the production requirements.
Choose a supplier with sufficient expertise and technology that can guarantee continuous line operation, without frequent errors.
Calculate the area to locate the machine position suitable for not working of the workshop.
Wood after sawing must be dried for storage, moisture is a factor you should also pay attention to when entering production
Wood moisture is related to sawn timber quality
Natural wood always contains a large amount of water available to feed the tree. When there is no water or a small amount of water released, it is called "fresh wood" or "un-dried wood". Vietnam is difficult to warm and warm, so it is very normal for the wood to stretch.
Wood drying is to absorb the amount of water in the wood so that the wood reaches the right humidity for machining.
Effect of humidity on product quality
Effect on the texture of the product: if the wood is not thoroughly dried, it will cause cracking, splitting or warping after using time due to the elasticity of the wood.
Effects on the surface of the product such as paint will peel off due to the elasticity of the wood.
Affecting the quality of products such as poorly dried wood, termites will lead to rapid deterioration of the product.
Contact consultant automatic Rounds Log Sawmill Production Line
The automatic Rounds Log Sawmill Production Line is suggested by Quoc Duy to help you partially visualize and understand the process for future projects.
Modern processes save production personnel and time. However, to have a complete process and suit your production needs, contact Quoc Duy for a more in-depth consultation.
[contact-form-7 id="2218″]
QUOC DUY WOODWORKING MACHINE
Với kinh nghiệm và tư duy luôn đổi mới áp dụng công nghệ mới vào sản xuất , Quốc Duy cam kết mang lại giá trị và chất lượng tốt nhất đến khách hàng.
About us